Last week I wrote about my frustration with the ever rising price of fitness in NYC. It's been really interesting and fun to further discuss the matter with all of you, and I've so loved reading your comments and thoughts.
Boutique fitness is not the only fitness choice in this city– I don't think big box gyms will ever fully go away and there are a ton of free or very affordable classes out there. A big thing my friends have mentioned to me, though, is that boutique fitness has totally changed their attitude towards fitness. People that previously hated working out and let their gym membership go to waste feel motivated to workout because they found classes they love. Fitness has been a part of my life since college and I'm a certified personal trainer, but even I struggle to motivate myself to go to the gym and work out on my own.
I honestly don't know what I'd do without Fitreserve (<— get $50 off your first month). I was first introduced to the service a little over a year ago and was offered a free month in exchange for blogging about my experience. I've been a paying member ever since. I love that I can visit each studio up to 4 times and peak classes are offered.
I skipped over writing a Fitreserve recap for the month of March since I was out of town for half the month, but here's a glimpse of what my April looked like in workouts.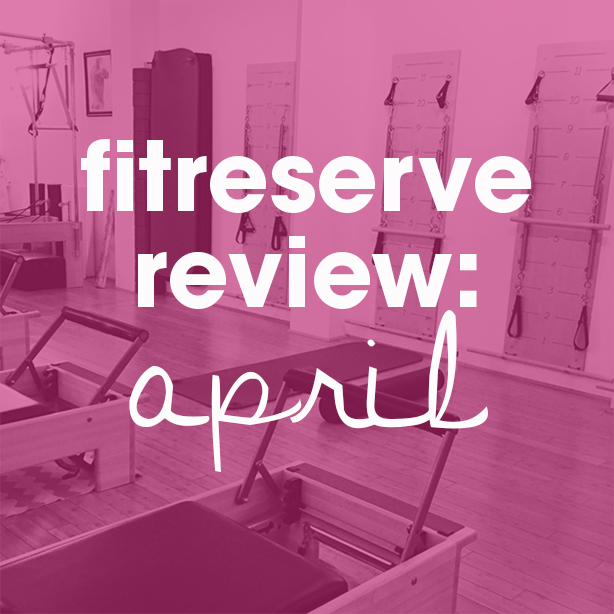 Fitreserve Review: April 4th – May 3rd
Number of classes taken: 17
Number of studios visited: 9
Cost per class: roughly $9.71 (Note: I get a slight discount on my membership thanks to working in a WeWork office).
Where I Went…
Uplift Studios (4 times)
As always, I used up all 4 of my Uplift classes. I also bought some additional Uplift classes and tried to go twice a week, either to two strength classes or one strength and one Sculpt class. This studio really is my happy place, no matter how I'm feeling or what's going on in my life, I know I'll leave in a better mood post workout.
Body Space Fitness (2 times)
I was really excited to take the new Kettlebell and Core class at Body Space Fitness. Any class with owner Kelvin is guaranteed to be a gooooood.
The class is all about building complexes with the kettlebell- think kettlebell swings immediately followed by some combination of dead lifts, high pulls and overhead presses. It's deceptively tough, but Kelvin is great about offering modifications and coaching you through each movement.
I also took the Metabolic Burn class. It's one of my favorite workouts to do on a Saturday morning.
Exceed Physical Culture (2 times)
You know I love a fitness instructor + class if I'm willing to trek up to the Upper East Side on my day off

With my new work schedule I've been able to squeeze in a mid-morning workout with Marianna uptown. It's SO worth the trek (granted their other location in Tribeca is a bit of a trek too from me). Whenever people ask for fitness recommendations I always tell them to seek out Marianna, she's the real deal.
Yoga Vida (4 times)
I'm always SO excited for my weekly class at Yoga Vida. I like that it's a vigorous flow class, but I don't leave so disgustingly sweaty that I need a shower. It's perfect for weekday mornings before work.
Circuit of Change (1 time)
Sometimes I find myself seriously craving a certain workout. I was in a shitty mood one Saturday morning and knew the exact class I needed – Circuit of Change. The class is an interesting fusion of yoga, kickboxing, and typical bootcamp movements all rolled into one workout. I like that the class has a yin and yang vibe, you start with a bit of yoga, go into the sweaty workout and then end with some more yoga and shivasana.
It's one of those classes that totally changes how I'm feeling mentally, I left in a much better mood and was really happy I went.
Brick (1 time)
I visited Brick this month with my friend Leslie. She's more of a yoga and barre kind of gal, but I assured her she's be fine at Bricks' B|X class. Of course the class I took her to ended up being the toughest workout I've taken at Brick. We both survived, and don't worry she enjoyed it!
I need to get my butt over to Brick more often this month, I love the workout but wish there was a studio a bit closer to me.
Dancebody (1 time)
I've been hitting up Tuesday classes with my friend from sleep away camp, we both have off and it's been a ton of fun to work out with a friend and try new classes.
First up was DanceBody, a high energy cardio dance class. The moves were a bit hard to follow at times, I noticed that instead of repeating a move for a count of 8 like you would in a zumba class or at 305, moves only took up 4 counts so it was harder to grasp the dance steps and by the time I figured it out we were already on to something else.
I love a sweaty cardio dance class, though, so still had fun even though I felt totally clueless at times.
JumpLife (1 time)
I'm a believer that fitness should be fun, and JumpLife definitely fits the bill… is there anything more fun than jumping on a trampoline? My Tuesday workout buddy and I hit up JumpGym, a class that utilizes weights and interval training. It was harder than I thought, you definitely feel it in your legs and the ab section left me sore. I really want to check out their more dance focused class… and kind of want to have my birthday party there.
Check out us goofing around after class here.
I.AM.YOU Yoga (1 time)
I was going to I.AM.YOU weekly during the summer but I haven't been back in MONTHS. Oh my god, I forgot how much I LOVE this class and starting my mornings there. There were two instructors so I got a ton of amazing hands on adjustments. It's a really sweaty class, so it might not be the best bet before work, but holy crap I felt so good after class. It was exactly what I needed.
Question: What studios have you been loving lately?