If you live in New York City, chances are you've heard about Blink Fitness, the relatively new chain of gyms owned by the same peeps as Equinox and Soul Cycle. Since opening it's first location in 2011, the brand has since expanded to more than 35 locations in New York and New Jersey.
What makes Blink Fitness different is their focus on affordability and making fitness accessible– two things I definitely stand behind considering a gym in NYC can be insanely expensive. At $25 per month it's less expensive than just about any other gym I've visited.
Over the next 6 months I'll be writing about my experience working out at Blink Fitness in exchange for free membership. So far I've been really impressed. The gym is clean and bright and has all the essentials I need to get in a strength training session and of course treadmills, which will become necessary as marathon training begins.
Where I think Blink really shines is that it fills a weird void in the fitness scene right now. The New York City boutique fitness scene is certainly on the rise compared to big box gyms… but it's also expensive. Blink is a really great option for people that want to supplement with a handful of boutique fitness classes during the month while still having a place they can go lift and run on the treadmill– all without totally breaking the bank.
For someone like me it's working out well, I adore my boutique fitness classes– but can't afford to have all my workouts be $34 a pop, plus I need access to a treadmill for marathon training as back up on a rainy day.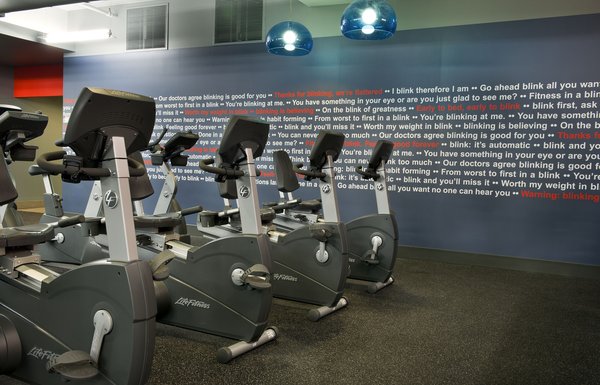 One interesting thing is that there are no towels at Blink which is part of the lower cost. While it's not a big deal to bring a small hand towel if I'm working out before work and heading home right after, showering might be more complicated. I'm also squeamish when it comes to other people's sweat (yes, even after working as a personal trainer) so part of me does worry that lack of towels might also mean lack of wiping off sweat if you know what I mean. So far though I've yet to experience that though, so the towel policy is fine with me.
GIVEAWAY TIME! Win a year-long membership to your local Blink Fitness. Check out where the nearest one to you is here. You can enter two different ways or do both– each option counts as an entry so your choice!
Post a comment below with you favorite workout move. I'll start– mine is plank
Follow me on instagram! Be sure to leave a comment afterwards below that says "Following". If you already follow me, just comment as well!
CONTEST ENDS 7/9/15 at 11:59PM. 
Photos via Blink Fitness.